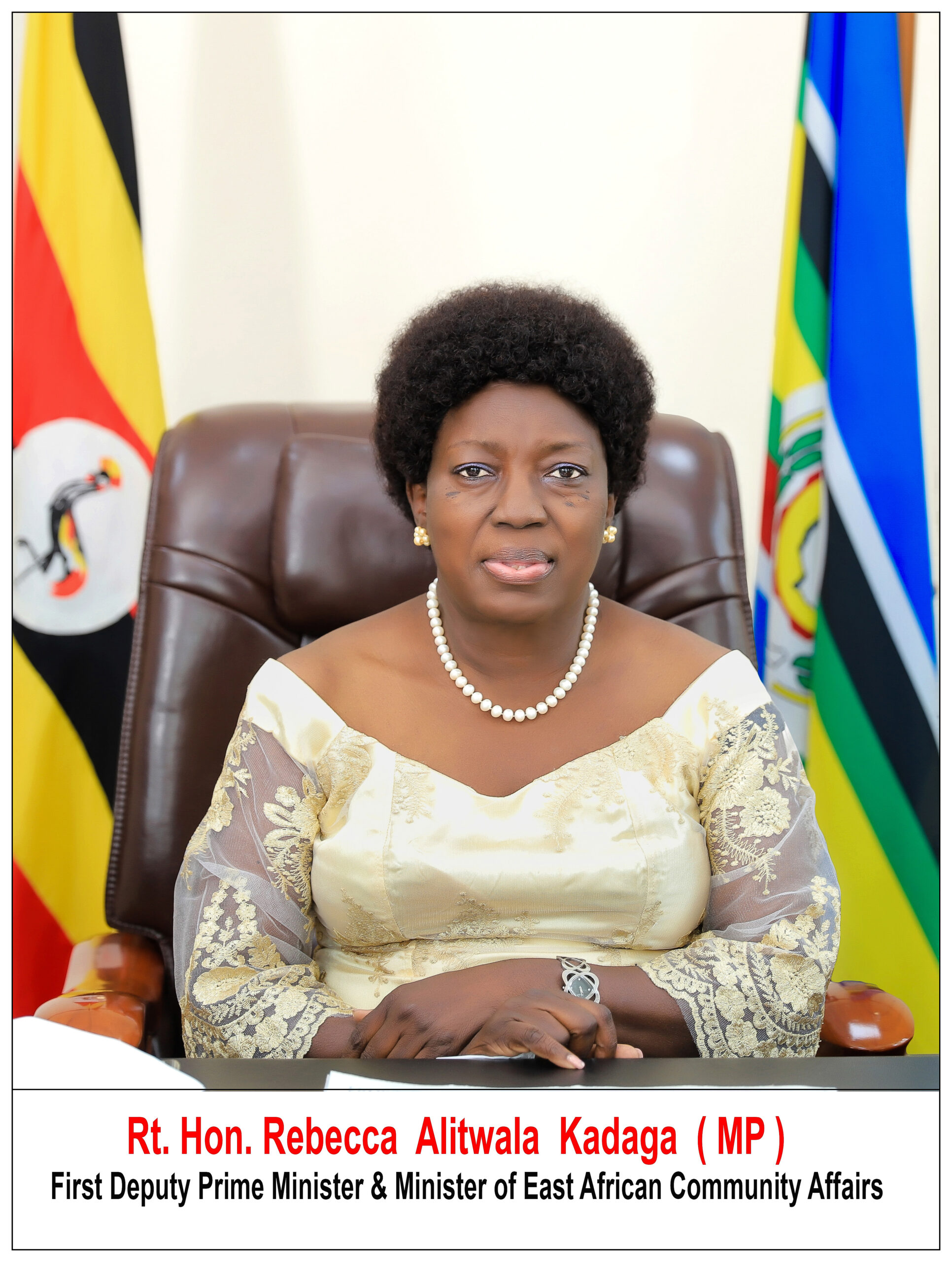 Rt. Hon. Rebecca Alitwala Kadaga( MP )
First Deputy Prime Minister & Minister of East African Community Affairs

---
Rt.Hon REBECCA ALITWALA KADAGA appointed in June 2021 as the 1st Deputy Prime Minister and Minister for East African Community Affairs in the Uganda Government. She is also the Speaker Emeritus of the 9th Parliament (2011- 2016) and 10th (2016- 2021) Parliament. She also has the distinction of being the 1st Woman Speaker of the Uganda since inception of Parliament
Prior to serving as Speaker, she served as the Deputy Speaker of the 7th Parliament (2001- 2006) and Deputy Speaker of the 8th Parliament (2006 – 2011).
REBECCA KADAGA  is a trailblazer, who has been  first in many aspects,  in 1964, she was the first Ugandan Woman to establish a Legal Practice M/S Kadaga and Co. Advocates, an Ardent Advocate of Human Rights and has consistently  fought for Women Rights, Youth emancipation and      of  social   and economic justice.
She was elected President of the International Federation of women Lawyers (FIDA UGANDA) and in that capacity was responsible for establishing the Legal Aid Scheme, the FIDA Legal Aid Clinic which offered the Pro-Bono Legal Schemes to indigenous women. Today, FIDA Legal Aid Clinic is a household name in Uganda, sensitizing Advocating and protecting people's rights. This Advocacy saw her rise in the Commonwealth Parliamentary Association (Africa Region) and the Commonwealth Parliamentary Association (International) where she became Africa's and the International President.
As a Ugandan and valued participant of the Inter Parliamentary Union, she rose from the position of Chair of the Committee  in Democracy and Human Rights, a standing Committee in the Inter Parliamentary union President of the African Region and later  Member of the Executive Committee, representing the African Region. She hosted a number of international conferences, amongst them, the 126th Inter Parliamentary Union Assembly in 2012, coinciding with the Golden Jubilee of Uganda's Independence, and the 64th Commonwealth Parliamentary Conference (CPC) in  September 2019, in Kampala, Uganda. This was the last majorphysical (CPC) before the onset of Covid 19 that disrupted the Statutory Meetings of several International Conferences.
Born in Uganda on 24th May, 1956 Rebecca Kadaga  is a Lawyer, educated at the famous Makerere University (LLB)  in 1975 – 1978 and the University of Zimbabwe (Master in Women Rights  2003) has a honorary Doctorate of Laws of Busoga University (2014) and a Doctorate of Laws of Nkumba University (Oct.2019)
She is also a holder of the Jubilee Independence Medal of the Republic of Uganda (2013) and Grand Officer, of the Republic of Benin, from the President of Benin for her work in the emancipation of Women.
She has previously served as Minister of State for Regional Cooperation (1996-1998) Minister of State Aviation (1999), Minister Parliamentary Affairs (2000-2001) in the Government of the Republic of Uganda.
In the National General Elections on 14th January, 2021, Rebecca Kadaga was massively elected as Member of Parliament for Kamuli District.