Minister meets the business community in Malaba border
webmaster
The 1stDM/Minister for East African Community Affairs Uganda Rt.Hon Rebecca Alitwala Kadaga (MP) met the business community in Malaba border. This was to assess the performance of the common market protocol as its documented in the East African Community Treaty.
Findings were that the emeritus speaker of the 9th and 10th Parliament of Uganda realized that there was a big problem of accessibility and instructed officials of URA-Malaba to immediately enlarge what is called as the "small gate" and also open two other gates of the border which have been a hindrance and a violation of the common market protocol which clearly stipulates free movement of persons in the East African Community.
Rt.Hon Kadaga went ahead to issue a directive to Uganda Revenue Authority – Malaba to return the empty trucks  for two months as a recovery measure of the economy at Malaba border after COVID19 pandemic.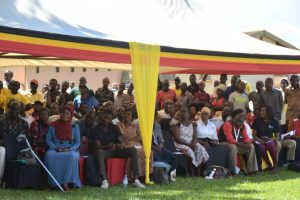 The empty trucks is a means of survival and source of income for the people of Malaba that they claim URA has denied them instead they push them to fit in the parish Development Model program which they argue that the program has no draft line to address their poverty eradication as for them who operate around the border areas.
The minister was also very disturbed to learn that the dry port which was commissioned by President Museveni and while she was then deputy speaker of parliament 20 years ago it has never been taken off! The woman Member of Parliament for Kamuli District promised to follow-up on the matter in cabinet and come up with diagnostic measures.
The Dry Port
In 2007, President Museveni and the then deputy speaker of parliament Rt.Hon Rebecca Kadaga (MP) endorsed a shs.400bn dry port at Malaba in Tororo district with the Great Lakes Ports. The project was fully supported by the eastern Uganda elders of because of its importance to address the fess of clearing agents, cargo theft, transit service delivery, police escort fess, unjustified shipping line and terminal charges.  The Great Lakes Port group agreed to give priority to local authorities when awarding contracts and recruiting employees .