1st Deputy Prime Minister attends East African Business Council breakfast meeting
webmaster
This morning, The 1stDPM|Minister for East African Community Affairs Uganda Rt. Hon Rebecca Alitwala Kadaga-MP officiated as chief guest at the East African Business Council breakfast meeting at Speke Resort Muyonyo.
The Minister inaugurated the East African Business Council ambassadors for the 7 partner states of the East African Community.
While addressing the delegates, the emeritus of the 9th and 10th Parliament of Uganda, talked about the progress on cross-border trade, and tariff barriers.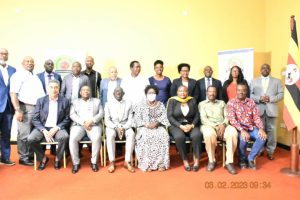 On the sidelines, while addressing members of the press, the woman member of Parliament for Kamuli district assured the country that the pending issues under the customs Union protocol with some partner states are being handled and discussed in the Council of Ministers meetings and soon enough they will be a talk of the past.
The Minister thanked President Ruto William who she met at State House Nairobi for making sure there are smooth trade transactions between Uganda and Kenya without hiccups.